Cabuzana Bed and Breakfast
Accommodation in North Lewis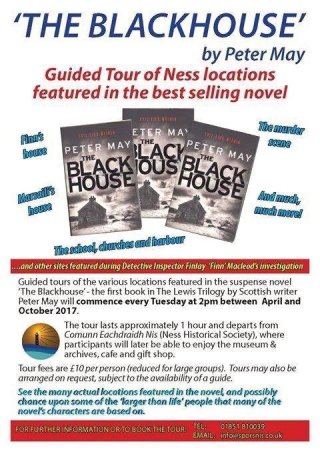 Good news for fans of Peter May's crime novel, "The Blackhouse"! The Guided Tour of Ness locations featured in the best-selling novel will run, courtesy of Sporsnis, at 2pm every Tuesday throughout the months of April to October. The guided tour comes highly recommended by Peter May himself, who took part in the very first one, in September 2016, and it will undoubtedly prove popular with the many visitors to the Western Isles who have read The Lewis Trilogy.
As accommodation enquiries for the oncoming visitor season begin to flow, it is becoming more and more evident that the Outer Hebrides will be welcoming unprecedented numbers of cyclists in 2017.
Numbers increased last year, since the launch of the Hebridean Way Cycling Route, in March, but it is now obvious that this new challenge has caused a major buzz within the cycling fraternity and more and more people are lining up to try it out for themselves. The route stretches for some 185 miles through the stunning scenery of 10 islands running the full length of the Western Isles, from Vatersay in the south to the Butt of Lewis in the north.
Here, at Cabuzana Bed and Breakfast, we are ideally situated to offer a comfortable bed, in a friendly environment, to those leg-weary travellers when they reach the end of their epic journey.
Earlier this month, London-based travel book company Rough Guide named the Outer Hebrides as one of the world's top ten places to visit in 2016. As the sole British region and one of only three from Europe to make the list, the Western Isles stands proud amongst some of the most exotic locations on the planet.
The publication describes the Western Isles as follows:
"During the long summer days, the isles' turquoise waters and white sandy beaches appear Caribbean-like, with top-notch waves for surfers and kiteboarders.
"Inland, castles, archeological sites, museums and quaint cottages make for perfect stops along the dramatic walking trails and cycle routes.
"While each island possesses a unique character, all are spectacular and overlooked."
Rough Guide's top ten list
1. Alaska, USA
2. Gujarat, India
3. Tasmania, Australia
4. Quebec, Canada
5. Tohoku, Japan
6. Northern Cape, South Africa
7. Lombok, Indonesia
8. Calabria, Italy
9. Castilla Y Lyon, Spain
10. Western Isles, Scotland
/