Shopping Cart
Your Cart is Empty
There was an error with PayPal
Click here to try again
Thank you for your business!
You should be receiving an order confirmation from Paypal shortly.
Exit Shopping Cart
Cabuzana Bed and Breakfast
Accommodation in North Lewis
Over the past few weeks, we have become accustomed to the distinctive call of two of our most iconic avian visitors. I mean, of course, the cuckoo and the corncrake, both of which travel thousands of miles, coping with all the trials and tribulations that nature throws their way, in their single-minded quest to reach their breeding grounds. What Stars! Other, more unusual, feathered visitors to our area in recent weeks included a Red-breasted Goose, a Tundra Bean Goose and a Marsh Warbler. A group of five White-tailed Eagles was also spotted at Eoropie Beach.

A group of wildlife enthusiasts braved the elements, on Saturday,12th April to attend the formal opening of the new nature observatory at Loch Stiapabhat Local Nature Reserve, in Ness. The project was organised by the local estate, Urras Oighreachd Gabhsainn (UOG), with the main funding assistance coming from Scottish Natural Heritage and LEADER. Other funders included the RSPB, The John Muir Trust and UOG themselves. On the day, the formalities were performed by well-known ornithologist and wildlife consultant, Roy Dennis, who has been involved in the conservation of rare birds and the reintroduction of lost species, such as the White-tailed Eagle and the Red Kite, for many decades. The nature observatory is now open to the public and a series of events is being organized for the spring and summer.

Here in Lewis, we have recently had a number of sightings of a species of bird never previously seen on the island – the Glossy Ibis. There was one seen in Galson, about a week into the New Year, after which there were more sightings (probably the same bird) at Loch Stiapabhat Local Nature Reserve. Prior to that, in December, four Glossy Ibises were spotted in Callanish. It took them millions of years to discover the Isle of Lewis and then, all of a sudden, five of them turn up here within a month!
The Glossy Ibis, the most widespread ibis species, is to be found on all five continents and is migratory but breeds in warmer climates. While its numbers in Europe are generally in decline, it has recently established a successful breeding colony in southern Spain and it is becoming more common for a small number of birds from this colony to winter in Britain and Ireland. It is a fair assumption, therefore, that this is where our Lewis visitors came from and now, having saved this destination in their sat nav, we may be seeing more of them in future years.
Not many reports of rare birds recently but we see plenty of ducks geese and mute swans on the various lochs in the Ness area. Our resident golden eagles, however, are always active. Their flight path takes them along the valley of the Dell river, from their moorland habitat to their food larder on the machair land of the Atlantic coastline. The machair is overrun with rabbits and this provides the eagles with a plentiful supply of fresh, nutritious food all the year round. Anyone wishing to see golden eagles in flight has a good chance of doing so by parking in the Ness Hall car park, overlooking the Dell River. We are very privileged in this respect, as most people live their entire lives without ever catching a glimpse of this magnificent creature.
After the hectic to-ings and fro-ings of the autumn migrations, birdlife in North Lewis is in its winter lull. During October and November, as well as the usual migrants such as the departing swallows and the arriving geese - to mention just two of many species - we have had the pleasure of some others, not commonly seen in our part of the world. Of course, our situation here in North Lewis, being on the main migratory path to and from the Arctic Circle, is ideal for birdwatchers on the lookout for something different. The wild North Atlantic storms can also be depended upon to blow some poor unfortunate birds off course and these are always only too happy to take advantage of our locality to grab a well-needed rest and some sustenance, before setting off again on their long journeys. This autumn was no different and amongst our visitors were a significant number of Europe's smallest bird, the goldcrest, blown in by easterly winds from Scandinavia, as they struggled against the elements to reach their winter habitat in southern Britain. Other welcome, and attractive, visitors were a number of Hornemann's Arctic Redpolls - fairly rare visitors to these parts – which hale from the tundra of Greenland. There have also been Common Redpolls, whose breeding grounds are in the high Arctic. In fact, a group of 10 of the latter has been spotted in Stornoway just three days ago. The white-winged Arctic gulls are also with us. There have been sightings throughout the Western Isles of Glaucous Gulls, from Iceland, and Iceland Gulls, (ironically) from Greenland. With the continuous storms we have been experiencing here in North Lewis over the past month or so, you can't help but wonder why these winter visitors don't chose to go somewhere with a friendlier climate. Fortunately, for those of us who gain so much pleasure from their presence amongst us, they continue to visit.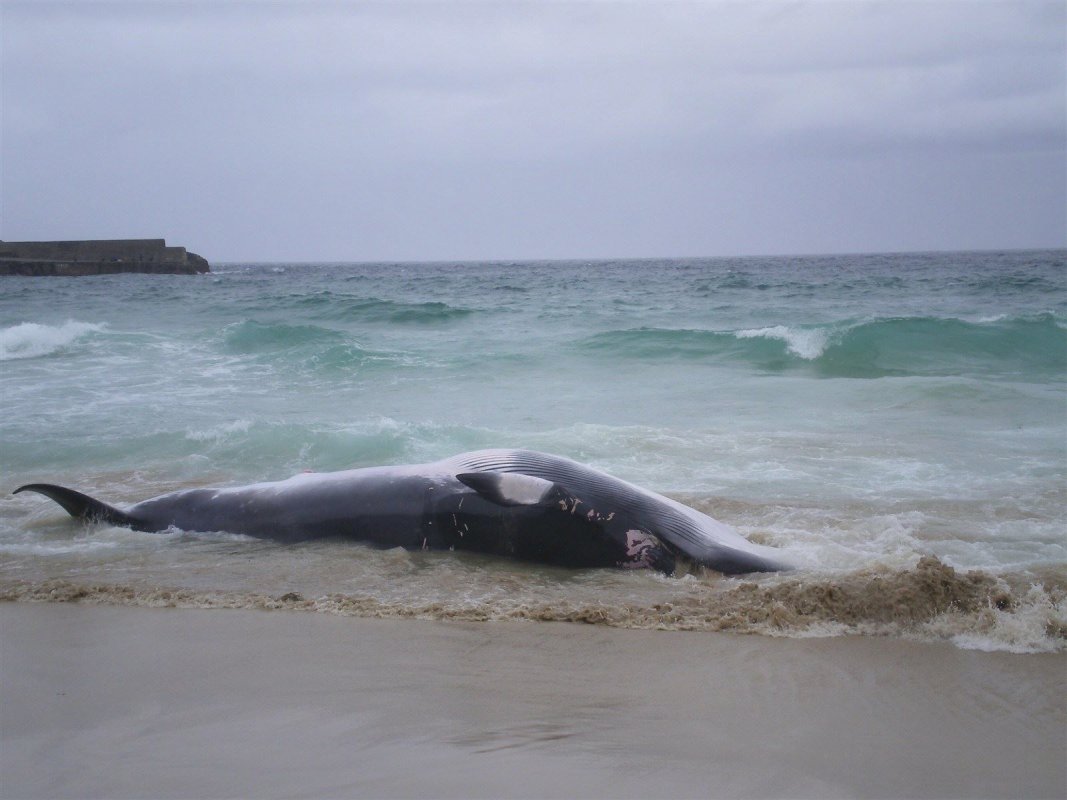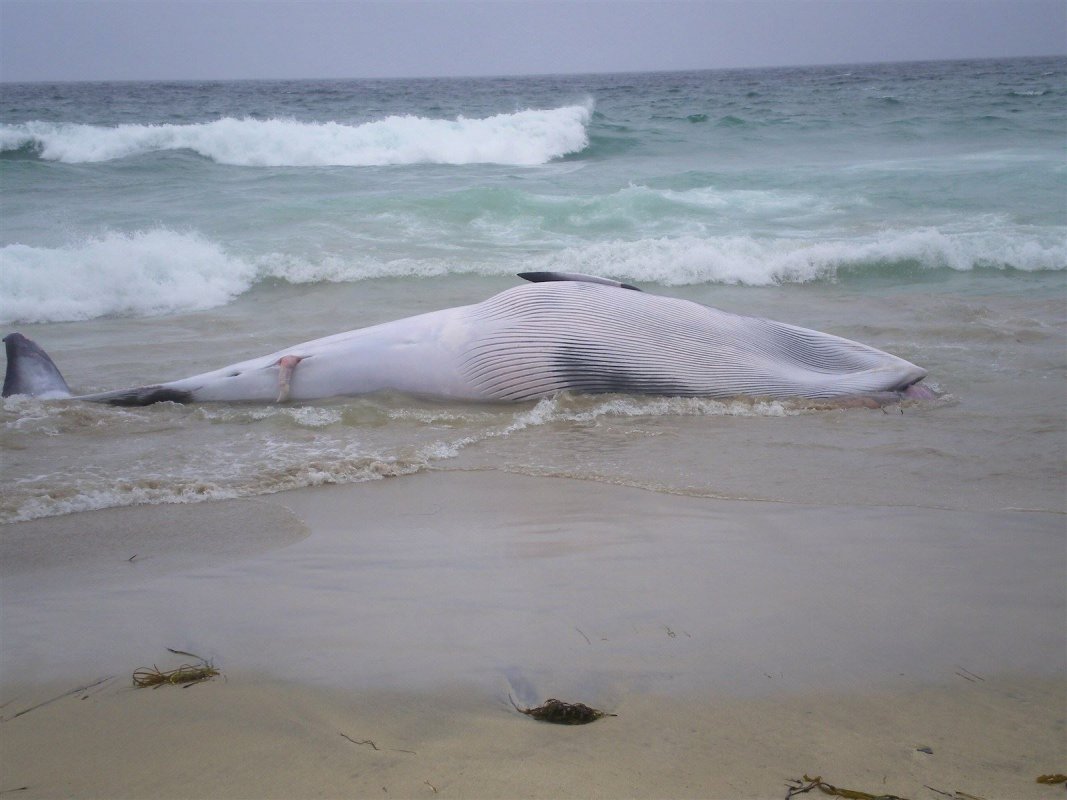 The blog of 10th August featured a baby Minke whale trapped in the harbour basin at Leverburgh in South Harris. Just over two weeks later, on 27th August, we had another incident, right on our doorstep, again involving a Minke. On this occasion, tragically, the poor creature had been dead for up to a week before being washed up on Port of Ness beach - some two miles from Cabuzana B & B. Again we are left to ponder the reason for the loss of yet another outwardly healthy-looking creature - this time, a male adult of some 24 feet in length (see photographs). There is some speculation, in this instance, that the poor animal had become entangled in some rope, net or other debris, resulting in its demise. As usual, the hand of man is the likely cause of death of yet another precious fellow planet-dweller. Will the human race ever take responsibility for protecting the environment?

Thursday 2nd August was a very special day for local birdwatcher Tony Marr. He was about to pack away his telescope, having checked out the new arrivals at Loch Stiapabhat Local Nature Reserve, when his attention was attracted by one final arrival. Tony got more and more excited as he went through a careful identification process, until he finally came to the conclusion that he had found a Black-winged Pratincole [Latin - pratum (meadow); incola (inhabitant)]. A quick call, on his mobile, to Birdline Scotland promptly confirmed his identification and a 'Rare Bird Alert' was put in place, to notify birders and twitchers from far and wide. The Pratincole is a family of eight species and the Black-winged breeds on the steppes of southern Russia and winters in southern Africa, so this particular individual's satnav was seriously faulty. This sighting was a first ever for the Outer Hebrides and only the fourth ever in Scotland, the last being in 1996. The bird has a very striking appearance, resembling a huge swallow or swift, is extremely agile and adept at catching insects on the wing. According to Tony, the bird stayed at Loch Stiapabhat for five days and was seen by about a dozen people during that time.

Yesterday's Wildlife Watch blog focussed on the baby Minke whale that got trapped within Leverburgh harbour basin, in South Harris. A major rescue operation was launched yesterday, co-ordinated by Sandy Macdonald of the Outer Hebrides Branch of the British Divers Marine Life Rescue, and involved boats, kayakers, surfboarders, swimmers and even children, who helped by making splashing noises to prevent the calf from beaching itself. Numerous attempts to guide the young creature through the breakwater channel proved unsuccessful but eventually, during the course of the afternoon, a combination of surfboaders and swimmers managed to coax the animal out of the harbour. Despite, initially, taking a wrong turning and heading inwards towards a pier, it eventually made its way into the open waters of the Sound of Harris. It will not be out of danger, however, until it is reunited with its mother, as it will still be dependent on her for another few months. We anxiously await further news on this reunion and will update this blog as soon as we hear anything.


Yet another report of a marine creature in difficulty. At this precise moment, efforts are being made to assist a baby minke whale, trapped in Leverburgh harbour in South Harris. The creature measures less than five metres in length and is believed to be less than six months old. The youngster has been swimming around in circles in the harbour but, despite human assistance on a rising tide, last night, it kept missing the breakwater exit which would have taken it to open waters. A female adult whale, believed to be the mother, has been waiting about a mile away, off Rodel, for her baby to rejoin her. Here's hoping for a happy ending!

The body of a rare Risso's dolphin was washed up on Borve beach (about 8 miles from Cabuzana) on Thursday, 2nd August. The creature measured just under four metres in length, which indicates that it was an adult of the specie (the normal length of an adult Risso's dolphin is three to four metres). Their lifespan can be in excess of 30 years. The waters surrounding the Outer Hebrides, which is the most north-westerly limit of the Risso's range, presents the best opportunities for sighting them, as they normally stay out in deeper waters, feeding on squid and octopus. It is most disturbing hearing all these reports of dead marine animals being washed up on island coastlines, or beaching themselves for some unfathomable reason. These are highly intelligent creatures and there has to be a reason for these casualties. Wouldn't it be nice if we could develop a better understanding of their behaviours, so that we could be of more assistance to them when they are experiencing difficulties?


0

/