Cabuzana Bed and Breakfast
Accommodation in North Lewis
This year's Hebridean Celtic Festival will be held from 17th - 19th July but already the organisers are busy behind the scenes. The first three acts to take part at the 2019 event were announced last month and these are Tide Lines, Talisk and FARA.
Tide Lines, who will be appearing for the third consecutive year, have built up a massive following since launching in 2016 and will, on this occasion, take to the stage on the Thursday night.
The multi-award-winning folk band Talisk, who formed five years ago, are also making a return to the HebCelt, fresh from their award of a Belhaven Bursary for Innovation in Scottish Music, at the recent Scottish Trad Music Awards.
FARA, consisting of four highly talented young Orcadian musicians, have made a big name for themselves on the Scottish folk scene and have recently been on a tour of the UK.
More acts are expected to be announced in the very near future.
To mark the Year of Heritage, History and Archaeology, Comunn Eachdraidh Nis will be carrying out excavation work on the Iron Age souterrain, 'Càrnan a' Ghrodhair' between the 19th - 30th June. Carnan a' Ghrodhair is a well preserved souterrain which lies beneath a World War 2 look-out post. The WW2 structure was constructed in the early 1940s.

The souterrain which is situated close to the cemetery on Habost machair is well-known within the community of Ness and many recall visiting the site as youngsters, during school breaks in the 1950s.
The archaeologist leading the dig will be Dr Chris Barrowman. Chris lives in Eorodale with his wife Rachel and family. He directed the Ness Archaeological Landscape Survey, and works as a Heritage Management Field Officer for Historic Environment Scotland. The Ness Archaeological Landscape Survey (NALS) was undertaken as part of the Dùn Èistean Archaeology Project, and recorded over 1500 sites dating from the early Neolithic to just after WW2.
Visitors are welcome to visit the site during excavation. This project will provide many opportunities for volunteering and suit people of all ages and abilities. The archaeological dig will encourage a 'hands on' approach, giving participants an opportunity to develop new skills and learn more about their local environment The long-term aim of the project is to improve the conservation of the structure and, if possible, enable access to the public at certain times of year. The machair area surrounding the souterrain is particularly interesting, boasting several historic landmarks within a one mile radius. Throughout the archaeological dig, guided walks in both Gaelic and English will be offered to visitors and a guide to the Habost machair will be published by CEN. It will be available to buy in the CEN shop and other local outlets.
If you want to find out more please contact us at CEN. E-mail [email protected] or Telephone 01851810377.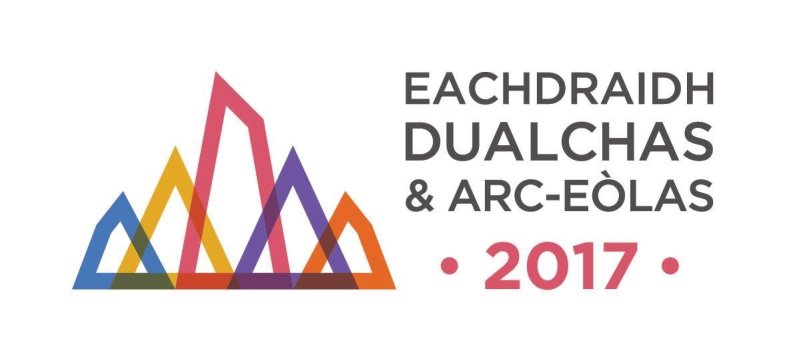 This project is part-financed by the Scottish Government and the European Community Outer Hebrides Leader 2014-2020 programme.
Twenty-two year old singer songwriter Bella Gaffney, from Bradford in Yorkshire, will be appearing on the HebCelt 2016 stage, after being announced as winner of the CalMac Culture Music contest, run by ferry company Caledonian MacBrayne. Bella was one of nine finalists who performed two acoustic tracks in front of judges and a live audience at the prestigious Glasgow nightspot, King Tut's.
The CalMac Culture Music contest is an annual event and is aimed at discovering talented young singers and musicians. A mark of its success, in this respect, is that the winners of last year's contest, Bella and the Bear, whose success earned them a slot in HebCelt 2015, are lined up for a quick return for this year's event.
Now that the festive season is a fading memory and we are into the fourth week of the new year, it is time to turn our attention again to the multi-award winning HebCelt Festival, which will have its 21st staging during the period 13th to 16th July 2016.
Already some very attractive acts have been announced for this year's event. Scottish rock legends Runrig will be headlining and will close the event on Saturday, 16th July. Also making a welcome return to the HebCelt stage is the ever-popular Julie Fowlis, who will be performing on the night of Friday, 15th July. Julie was one of the first inductees to the HebCelt Hall of Fame and is an ambassador for the Festival. She last performed there in 2012.
Another famous Scottish name at this year's event is the hugely talented and experienced John McCusker who will be appearing with his band. John joined the legendary folk outfit, Battlefield Band as a 17 year old and remained with them for 11 years, until 2007. Since 2008, he has been a member of Mark Knopfler's band, appearing at many of the world's great venues and has shared a stage, and recording studio, with some of the most illustrious performers of our time.
Also appearing this year is Hayseed Dixie, a band from the heart of the Appalachian Mountains of East Tennessee in the USA, who will take to the stage on Thursday, 14th July; the Scottish up-and-coming girl-band, Fara, who are fast making a big name for themselves on the folk music scene and Talisk, winners of the BBC Radio 2 Young Folk Award who, despite only coming together in August 2014, have made a big name for themselves and have already landed slots at some of Britain's biggest festivals, including Cambridge Folk Festival, Celtic Connections and Fairport Convention's Cropredy Festival.
We will keep you posted on further additions to the list, as they are announced. In the meantime, however, it cannot be over-emphasised that, due to high demand during Festival time, people are advised to organise accommodation well in advance.
This year has been designatedYear Of Food And Drink Scotland 2015and will be marked  by numerous events throughout the length and breadth of the country, including in the Isle of Lewis and various other parts of the Western Isles. In Ness, Comunn Eachdraidh Nis is hoping to mark the occasion with an event highlighting traditional fare from the North Lewis area. No details of this are available, at this stage, but we will spread the news as soon as more information is released.
Here is an extract from the Visit Scotland website, providing some detail about Year of Food and Drink. For more information, check out their website at
www.visitscotland.org
"Year of Food and Drink Scotland 2015 is a Scottish Government initiative led in partnership by EventScotland, VisitScotland and Scotland Food & Drink.
 The aim of Year of Food and Drink 2015 is to spotlight, celebrate and promote Scotland's natural larder and quality produce to our people and our visitors and in doing so, further develop Scotland's reputation as a land of food and drink."
Distinguished Lewis fiddle player Alasdair White, who is a member of top Scots band, the Battlefield Band, has been commissioned to create an entire suite of new music, titled 'An Iuchar' (The Key) to celebrate the 20th anniversary of the globally-acclaimed Hebridean Celtic Festival.
'An Iuchar' will be an hour-long piece, featuring some 30 tunes and involving a number of highly acclaimed musicians and will be performed on the opening night of the festival arena (16th July). For Alasdair, who first appeared on stage at HebCelt as 13 year-old schoolboy, the scale of this commission has been challenging but also a massive opportunity to demonstrate further examples of his massive and varied musical talent.
It's that time of year again, time to cast off the winter blues that invariably descend each January in the anti-climax following the celebrations of the festive season. Tonight sees the start of Celtic Connections 2015 which, as always, is guaranteed to lift the gloom, with 300 events involving some 2100 artists during the course of the festival.
This year's event gets underway, tonight, in the Glasgow Royal Concert Hall with a celebration of the music of the late, lamented,  Martyn Bennett, who was a real giant of the contemporary music scene. Sadly, Martyn's life was all too brief, tragically cut short by cancer at the early age of 33. This event commemorates the 10th anniversary of his untimely passing.
This opening event promises to be of the highest standard and will set the tone for what will, undoubtedly, be another highly successful festival.
Ness Hall is the place to be this evening to appreciate the wealth of traditional musical talents of the youngsters of Fèis Rois. They will be ably supported, on the night, by Ness Melodeon Band and Ness Highland Dancers. Hopefully there will be a good turnout to support and encourage these young stars of the future, who are doing such sterling work in keeping our tradional music alive for future generations.
Further information about Fèis Rois and its activities can be found on their website:
www.feisrois.org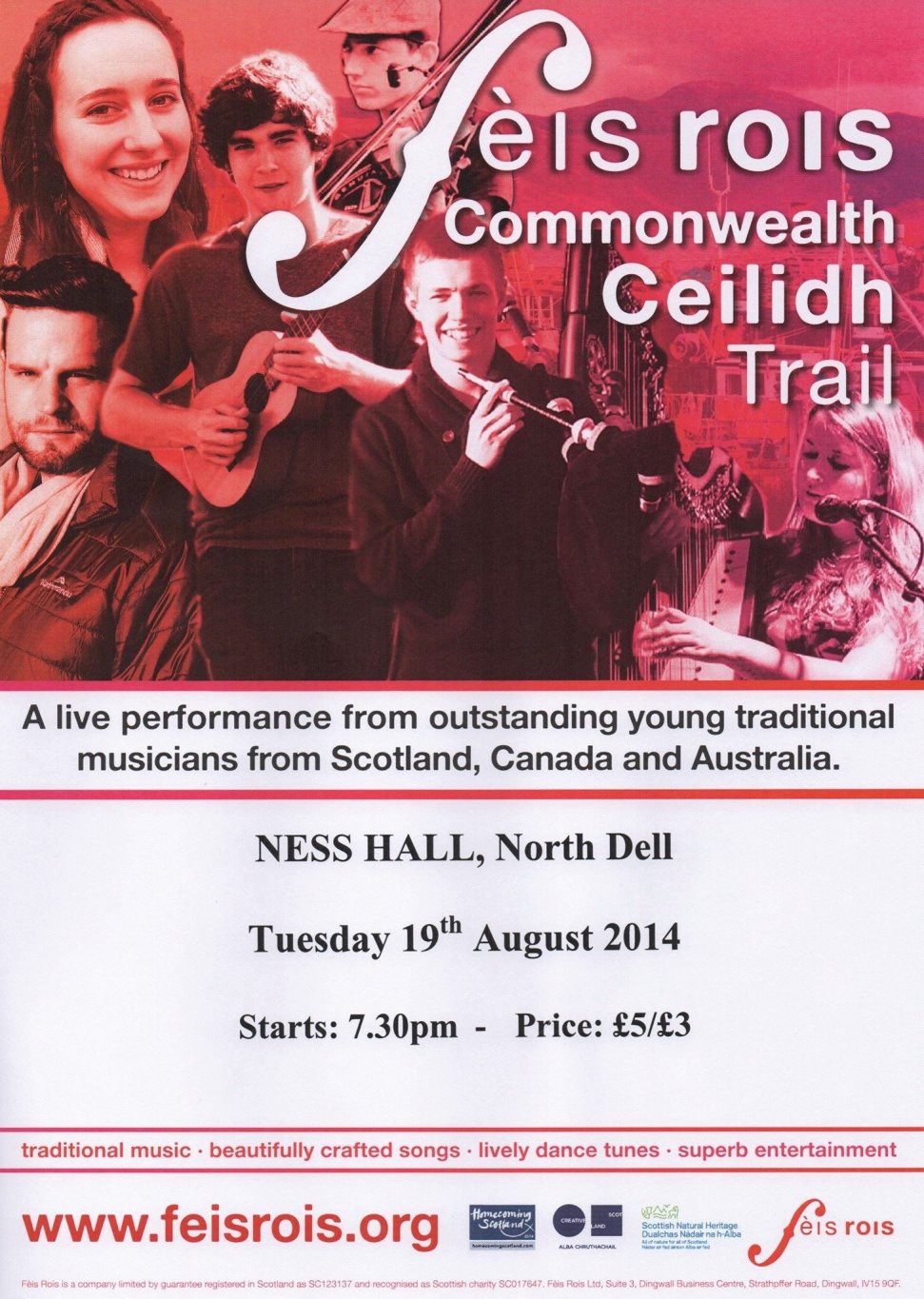 /