Shopping Cart
Your Cart is Empty
There was an error with PayPal
Click here to try again
Thank you for your business!
You should be receiving an order confirmation from Paypal shortly.
Exit Shopping Cart
Cabuzana Bed and Breakfast
Accommodation in North Lewis
After months of anticipation, the Hebridean Celtic Festival 2014 is finally underway and the Isle of Lewis is bursting at the seams with excited festival-goers. Accommodation is virtually impossible to find and camp-sites are a splash of colour, crammed with tents of all shades and hues. Calmac Ferries and Flybe staff are working hard to cope with the rush, on what is possibly the most hectic week of the year for them.
Unfortunately, today's weather is a bit damp and dismal but, if the forecasts are to be believed, things will improve for Thursday, Friday and Saturday. In any case, such is the quality of talent on show at HebCelt, the inconvenience of an occasional little spot of drizzle would be barely noticed.
This year, there is marvellous news for those unfortunate people who are unable to attend the event in person, as BBC Alba are screening live coverage of the festival from 10pm till midnight on both Friday and Saturday nights. If you are going to be out on these nights, remember to set up your TVs to record the programmes - this is an event not to be missed!
Ness Football Pitch, Fivepenny Machair, Ness is, once again, the venue for this year's Ness Gala Day which will take place from 1pm - 5pm. There will be plenty to do and see for adults and children alike. Attractions include Bouncy Castle, Go Karts, Coconut Shy, Beat the Goalie, Wheel of Fortune, to name but a few. There will also be a Bar Tent, Tea Tent, Candyfloss and Ice Cream Stalls, as well as a wide variety of other stalls. Ness Fire Brigade will be present with their equipment and further entertainment will be provided by Ness Melodeon Band and Ness Highland Dancers. As in previous years, there will be the ever-popular auction of donated goods and services. All-in-all, it promises to be  an event not to be missed, so why not come along and join in the fun?
Congratulations are due to the organisers of the Hebridean Celtic Festival. For the fourth year in a row HebCelt is selected in the list of top 10 UK summer festivals, compiled by the influential world music magazine,
Songlines
. It is the only Scottish festival appearing in the list and features alongside such prestigious events as Glastonbury and the Cambridge Folk Festival, earning lavish praise from
Songlines
editor Jo Frost. This accolade will serve to further enhance HebCelt's already glowing reputation. Keep abreast of the latest news of Hebridean Celtic Festival 2014 on their website
www.hebceltfest.com
. Anybody intending to attend this year's event, which takes place from 16th to 19th July, should book their accommodation now, if they haven't already done so, in order to avoid disappointment. We still have a few vacancies here at Cabuzana Bed and Breakfast but, usually by the end of April, accommodation becomes very hard to come by for the period of the festival.
Homecoming Scotland 2014 will bring many visitors, from all over the world, to our shores and, with Lewis and Harris recently emerging as top island in Europe and Number five in the whole world, in lists compiled by TripAdvisor, it would make sense for these visitors to see for themselves what our island has to offer. The TripAdvisor lists were based on the reviews submitted by their members and covers all aspects of their holiday experiences, including the famous "Highland hospitality" on offer at small bed and breakfast establishments such as Cabuzana Bed and Breakfast. We would be delighted to help make your visit to the Western Isles a comfortable and enjoyable experience to treasure for the rest of your life.
In addition to the natural beauty of the island and historical sites, such as the world-famous Callanish Standing Stones, there are also many special events to savour, like Homecoming Scotland 2014: Hebridean Celtic Festival (17th-20th July) and Homecoming Scotland 2014: Harris Tweed Hebrides Tattoo (8th-9th August), to name but two. All-in-all, it promises to be the perfect time to holiday in the Outer Hebrides.

Harris Tweed Hebrides Tattoo 2014 will take place on the Isle of Lewis on Friday, 8 and Saturday, 9 August, as part of the year-long Homecoming Scotland 2014 celebration. The programme will contain something for everybody – music, dancing, singing and world-class piping. Amongst the 10 pipe bands performing on the Lews Castle Green will be the highly acclaimed, six times world champions, the Simon Fraser University Pipe Band from Canada, who have been at the very pinnacle of the piping world for many years.

On the Friday night, as well as all the music, singing and dancing, there will be a horse parade, organised by the local Pony and Riding Clubs. The evening will conclude with performances by the massed Gaelic choirs and the massed pipers, followed by a spectacular fireworks display.
Saturday, 9 August is carnival day in Stornoway, with pipe bands and floats parading through the town. This will be followed, in the evening, by a grand concert in the Lochside arena.
All-in-all, this promises to be an event not to be missed and well worth a visit to the Outer Hebrides to take in. Early booking for accommodation would be strongly recommended – we still have vacancies here at Cabuzana Bed and Breakfast but, being at the height of the tourist season, this will soon change.
The HebCelt 2014 programme is gradually taking shape and it is obvious that the organisers are maintaining the same high standards of previous years.
It must be a daunting thought, at the close of each hugely successful event, that you have to start all over again and, at the very least, match the previous year's achievements. On the other side of the coin, however, they say that success breeds success and this will, undoubtedly, help the organisers in their quest to sign up the very best talent available. Such is the reputation earned by HebCelt that big-name acts are more than willing to have it added to their CVs.
Already confirmed for the 2014 festival is Donnie Munro, for some 23 years, lead singer with Runrig; Big Country, the legendary Scottish rock band formed by the late Stuart Adamson back in 1981 and, the latest headlining addition to the programme, the award-winning folk rock band, Levellers, formed in 1988 and regulars on the festival circuit, including Glastonbury. Levellers earned great acclaim for their previous performance at HebCelt 2006.
Also returning to the scene of former glories are the popular Scottish singer Rachel Sermanni, who appeared at the 2011 festival and Duncan Chisholm, of Wolfstone fame, and now a highly acclaimed solo fiddle player and composer.
Among the local acts appearing this year is the popular up-and-coming 15-year-old singer/songwriter, Eleanor Nicolson, who is fast making a big name for herself.
A word of warning regarding accommodation, however. Do not delay in making your reservations, as demand is already steady and, historically, all bed and breakfast establishments are fully booked some two months in advance of the event.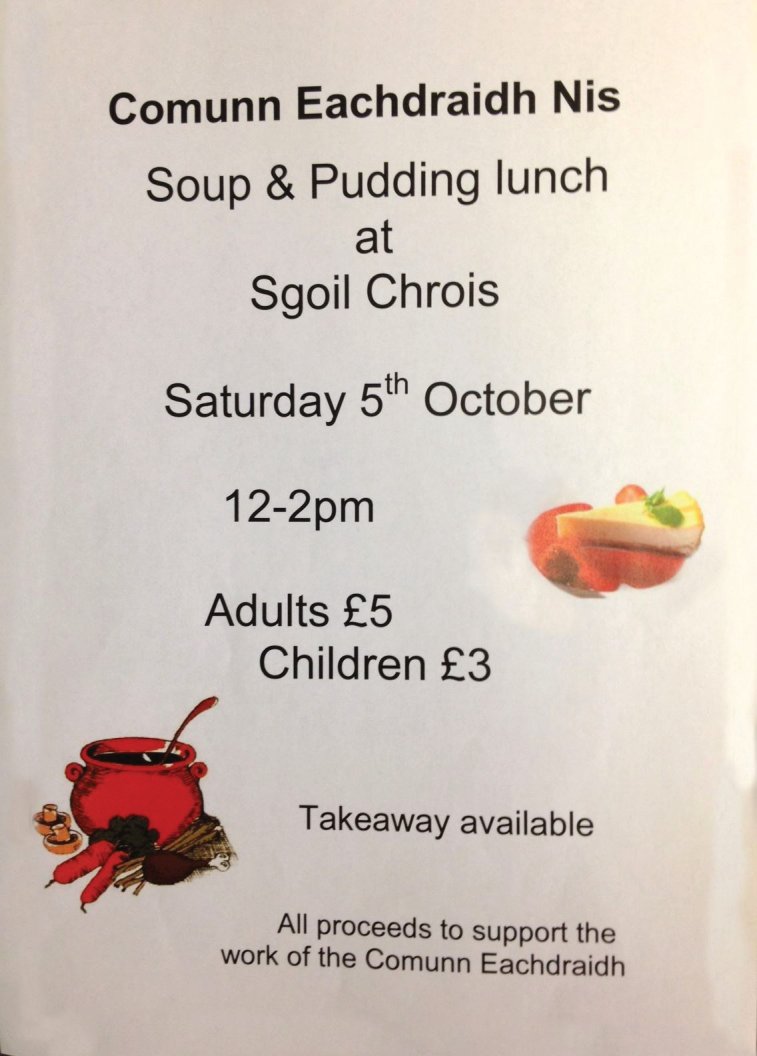 As regular readers of the North Lewis Blog will know, Comunn Eachdraidh Nis (or Ness Historical Society, to give it its English form) is a cause dear to our hearts here at Cabuzana Bed and Breakfast. CEN is a financially free-standing organization and is dependent on the tireless fundraising efforts of the directors and staff and the loyal group of patrons who support their fundraising activities. Another such event will take place at CEN on Saturday, 5th October 2013 with a soup and pudding lunch. We would urge everybody who can manage, to drop in and enjoy the magnificent range of soups and desserts, plus the opportunity to win a prize at the usual bottle and chocolate stalls. Do your bit to support CEN in continuing to provide this priceless facility within the North Lewis community.

This Saturday, 17th August, sees some 30 rally cars from all over the country descend on Stornoway for the Aries 13 Rally Hebrides. The stages will be more or less the same as last year, with the first car being flagged off from the Castle Grounds at 9.55am. It is recommended that spectators watch from the premium area on the Castle Green. This will give them the opportunity to see the cars negotiate several tricky corners. For safety reasons, the organisers want spectators to be in place 30 minutes before the advertised stage times. Aries 13 Rally Hebrides, which is a non-competetive event, is organised by Lewis Car Club, with all proceeds going to Macmillan Cancer Support. Last year saw a record amount in excess of £21,000 being raised. It would be nice if 2013 were to be another record-breaking year, so we at North Lewis Blog would urge everybody to go along and enjoy the event, while supporting a very worthy cause.


On the Lewis shows and gala calendar, today was the turn of Carloway Agricultural Show which was taking place at Carloway School. No reports have reached us yet at Cabuzana Bed and Breakfast North Lewis Blog but, one thing is certain, they could not have picked a better day weatherwise - it was a cracker! This being the case, it is pretty certain that they would have had a huge turnout.


This year's Lewis Carnival takes place tomorrow, Saturday, 3rd August 2013 in Stornoway and, as usual, it offers fun and entertainment for everyone. Once again the funfair, with all the usual rides, will be in the South Beach car park and the continental market is situated in Percival Square. Hopefully, the weather will be kind to the event, to ensure a great turnout and we would urge everybody to support the hardworking organisers and the local charities that benefit from their efforts.




Lewis Carnival 2013

Running order for the day:

12pm - 5pm - funfair and stalls

1:45pm - Bobby's Carnival Mile (leaving from Caber car park)

1:50pm - Lochside Arena Horse Parade

2pm - 3pm - Pipe Band and Float procession

2pm - 2:45pm - Eleanor Nicolson performs live with special guests

3pm - 3:30pm - Prize Giving

3:30pm - 3:45pm - Highland Dancing

3:45 - 4pm - Pipe Band

4pm - 4:15pm - "The Proof is in the Pudding" black pudding eating comp

4:15pm - 4:30pm - Muay Thai demonstration

4:30pm - 4:20pm - Raffle/Prize Winners

4:40pm - 5pm - COAST perform live on the stage




0

/